Since 2019, individuals, businesses and schools have show

n

their support for

A

utistic people by putting their Hoodie Up for autism.

This April,

the community will once again Hoodie Up to raise funds and

stand together for a

more autism inclusive Australia.
What is Hoodie Up?
Amaze celebrates Hoodie Up every year in April during World Autism Acceptance Month. Hoodie Up is a campaign to show understanding, acceptance and support for the Autistic community. This year, Amaze will be asking everyone to Hoodie Up on Tuesday 4 April. Whether you're Autistic, love someone who is or just want to stand in solidarity with the autism community, join us in putting your Hoodie Up and celebrating the diversity autism brings to our world.
Why hoodies?
Some Autistic people experience sensory sensitivities and can become overloaded by stimuli in their environment. Wearing their hoodie up means they can block out bright lights and busy environments which helps calm them.
How can I take part?
You can show your support by buying a hoodie from March 2023 and wearing it on 4 April. You can also help raise funds by holding a fundraising event any day over the month of April with your friends, school or workplace.
Where do funds go?
Funds raised through Hoodie Up will help deliver vital support to Autistic people and their families so they can live their best lives. Your support will help us advocate to ensure the autism community's voices and needs are recognised in government policy and the media, break down stigma in the wider community through public education campaigns and create a more autism inclusive Australia.
Ready to Hoodie Up in 2023?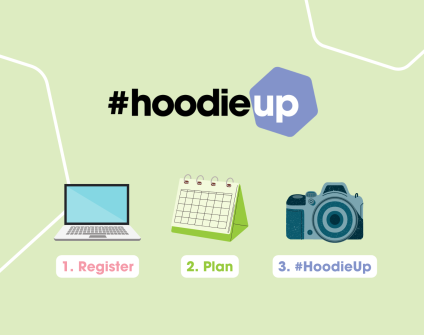 Buy a hoodie
Hoodies are on sale now! Purchase your 2023 hoodie here.
Host a Hoodie Up event
Interested in hosting your own event with your friends, school or workplace to raise funds?
Register your event now to access our 2023 toolkit and to start donating!
Sign up for your toolkit now
If you are not hosting a Hoodie Up event this year, you can still access our toolkit by registering your details here.
See below a sneak peak:

Donate
By donating during Hoodie Up 2023, you are supporting Amaze's efforts to develop programs and resources to improve the wellbeing of Autistic people and their families. Donate today.