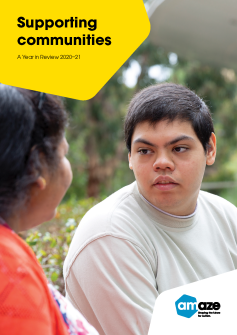 Amaze has released our Annual Review 2020/2021, detailing our support, advocacy and achievements over what has been another challenging year for the autism community.
The COVID-19 pandemic continued to have a huge impact over the past financial year but we have been heartened and humbled by the positive feedback from the autism community on the difference we have made. The wonderful responses from autistic people, their families, friends and carers made dealing with all the challenges of the pandemic much easier.
For more than 50 years, Amaze has been here for autistic people and their families, building a solid foundation that has prepared us to support them through a one-in-one-hundred-years pandemic.
Whether it was helping autistic people navigate COVID-19 testing or developing social scripts for different vaccination locations, we are so glad to hear that our work has made such a big difference.
Some of the highlights and achievements outlined in the Amaze Annual Review include:
The expansion of our autism advice and support line Autism Connect nation-wide, with the launch taking place in June 2021. Autism Connect received 31,684 interactions over the year.

The submission of a detailed report that helped shape the Victorian Government's Autism Education Strategy, the first of its kind in Australia. We are now working with the government on the design of the Diverse Learners Hub, a centre of excellence in autism and neurodiverse education.

The delivery of 158 workshops and training sessions, which 4,450 people took part in. A series of three webinars – covering the transition to secondary school, autism and employment, and raising autistic teenage youth – saw people from all over the world attend.

Attendance at more than 20 meetings with government ministers, parliamentary secretaries, and opposition, backbencher and crossbencher MPs.

More than 1,100 collaborations and partnerships with other organisations.

More than 31,500 downloads of resources developed by Amaze.
Click here to download the full report.