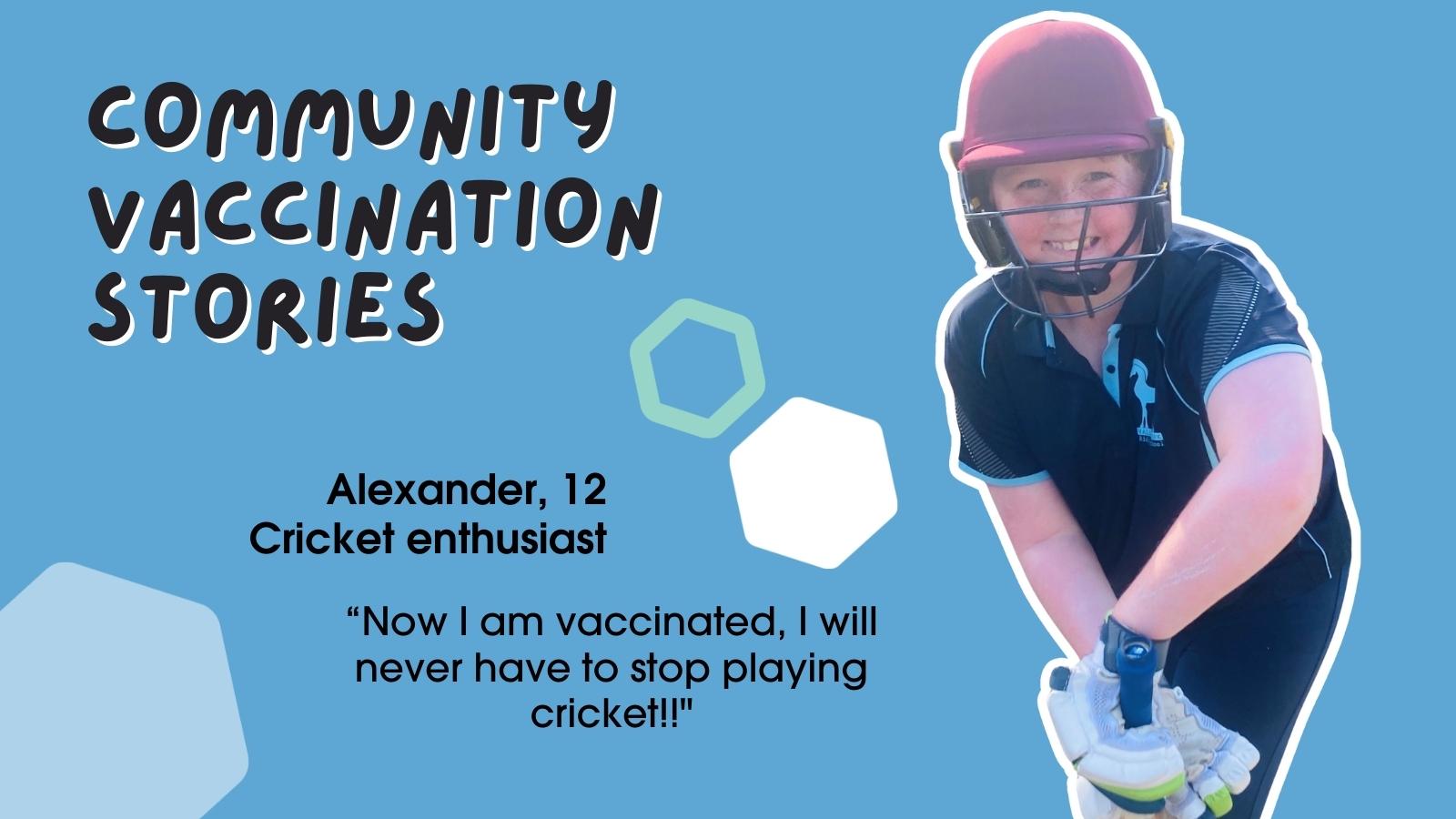 Alexander wanted to share his vaccination story to help people like him get vaccinated. Thank you so much, Alexander!
If you, a friend or family member is autistic and contemplating how best to get the COVID-19 vaccine, one Melbourne mother has some excellent tips and advice.
Leah Dean has recently been through the process of helping her autistic son Alexander, 12, get vaccinated and wanted to share her ideas to help other autistic people and their families.
Leah said good planning made the process run smoothly for Alexander, who is now double dosed. As autistic people all have different requirements, Leah said it was important to make a plan that suits you or your family member's unique needs.
For Alexander, Leah started the process by creating a social script that helped Alexander make the decision to get vaccinated for himself. Social scripts are story-based strategies using images and descriptions to explain new experiences and social environments to autistic people. This included the reasons why vaccination is so important – that it will protect him and his loved ones from getting sick, and that it will mean he is doing his part to help things get back to normal.
The social script was in the form of a digital slideshow accompanied by Alexander's favourite song that Leah played regularly to her son before as well as during his vaccination sessions. The presentation includes lots of photos of loved ones like his mother, his grandparents, friends and other family members, and images of Alexander doing the things he loves but hasn't been able to do during the pandemic, like playing cricket.
Leah explains that a vaccination centre was not the ideal environment for Alexander to get a vaccine – they are too big and the queues, noise and crowds would have made the process stressful for him.
Alexander's Disability Liaison Officer Christy suggested that a drive-through vaccination clinic might work for Alexander's first dose. Leah agreed and they made an appointment at the Sandown centre before putting together a schedule for the vaccination day so Alexander would know exactly what was going to happen and when.
On the day, Leah helped centre staff better support Alexander by posting a sheet of information about Alexander in the car window, explaining his interests and how best to engage with him, which was a move staff said they really appreciated.
"The benefits of a drive-through centre for Alexander were many – there's more privacy in the car, which is also a familiar environment where he feels calm," Leah says.
"We didn't have to stand in line with other people and there were no crowds and noise. Also, the vaccination wasn't rushed and the staff members were very helpful."
Leah says she made contingency plans in case the vaccination didn't go well, deciding that they would not push through but try again another day, which took the pressure off. She also bought a numbing cream from a chemist so the vaccination would be less painful for Alexander, and he sat in the back seat of the car with his carer who reassured him during the process.
"I also put together a reward box that included games, chocolate and art supplies, which was something for him to look forward to," Leah says.
For Alexander's second dose, a team from community health service EACH came to the family home, which made the process even more comfortable for him with familiar surroundings and his therapy dog nearby.
Leah said she followed the same process for the second vaccination dose, including using the schedule and posting Alexander's background information on the front door for the nurses to read before entering the home. Alexander's second reward box included a new pair of PJs, which Leah says he is now calling his "vaccine pajamas".
Alexander will be eligible for his COVID-19 third dose within a month and Leah said that will also be administered by EACH in their own home.
"I absolutely support making the vaccination process easier and more accessible for other families and I really hope sharing our story helps other autistic people," Leah says.
"Sharing information and positive stories is a great way to help others get through the process as smoothly as possible."
For COVID-19 vaccination resources, including vaccination social scripts, needle phobia resources, and how to access support, visit the Amaze Coronavirus Community Information hub or contact the Autism Connect national autism helpline on 1300 308 699.