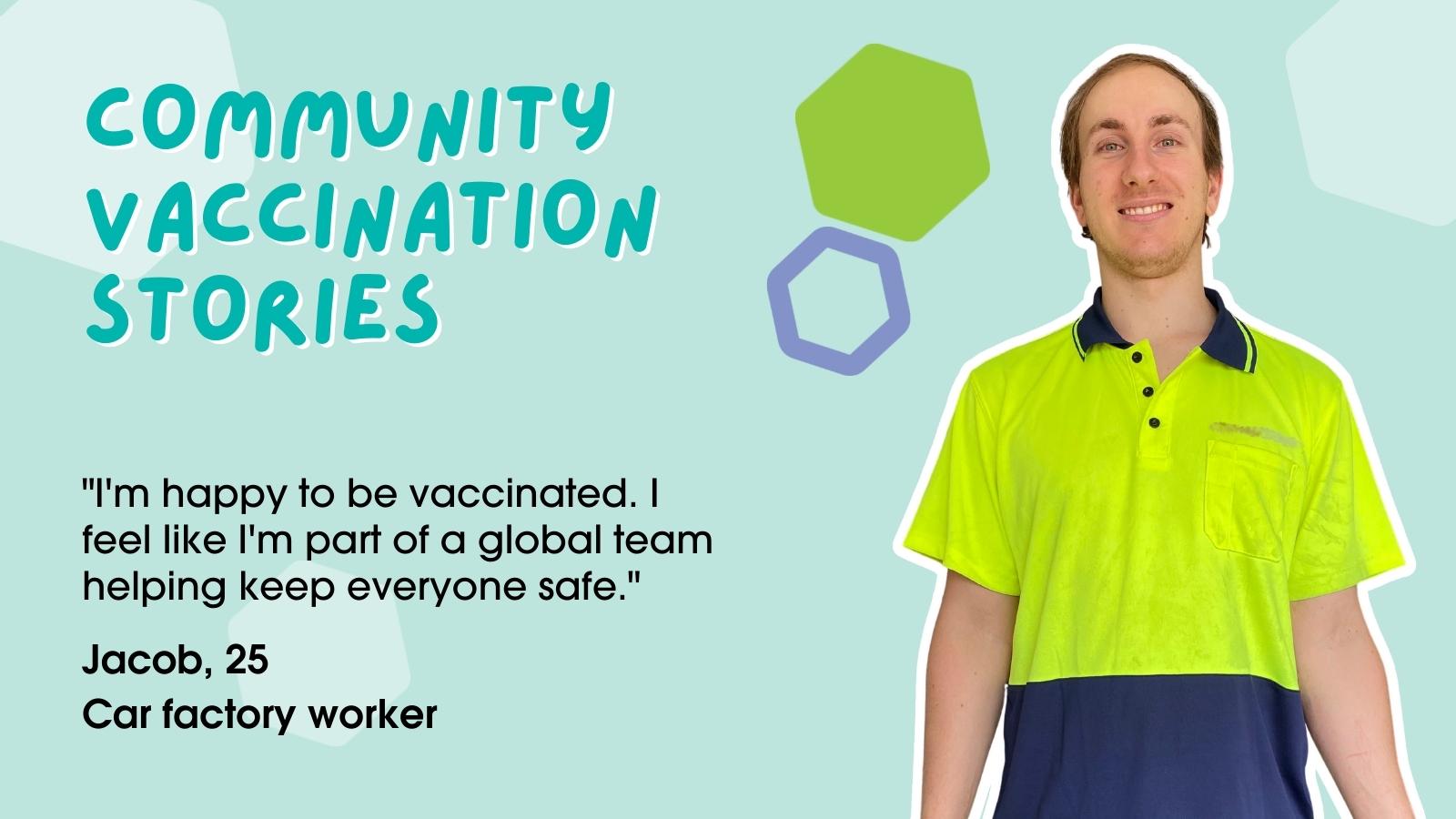 When autistic man Jacob, 25, went to get his second COVID-19 vaccination, he was a little nervous. But his experience at the Sandown Racecourse vaccination centre in Melbourne went really well thanks to his own preparation and the friendly, efficient staff.
Here Jacob tells us in his own words how the appointment went, explaining how well the centre staff attended to his needs as an autistic person.
"Before the vaccination, I was feeling a bit nervous because I'm scared of needles but I wasn't as nervous as the first time because I'd made it through that one okay. My partner supported me at my first appointment but she wasn't able to come to the second, so this meant I was feeling a bit nervous about being on my own.
"Before my first vaccination, I looked at the Amaze social scripts* to help prepare me. The information from the scripts, combined with having already received my first dose, made me feel a lot more confident about the second dose.
"I went to the Sandown Racecourse vaccination centre and because I got there right on opening time, there was a very long line but it moved very quickly. When I reached the end of the line the pre-screening staff were very efficient and well-trained, arranging us into smaller groups to do the screening questions. They gave me options on how I could respond, whether speaking "yes" or "no", or nodding and shaking my head, which was nice because it meant you didn't have to talk if you didn't want to.
"I was asked by a second staff member if I needed my first or second dose, and that was quick and efficient. They asked what date I had my first dose – I didn't remember the exact date but that was okay.
"Next in the process was the mask changing where you sanitise your hands and put on a fresh mask. That went well as they had enough staff members so the queue didn't stall but you didn't feel like you were under pressure to change your mask quickly. The staff were all nice, told me exactly what to do with very clear steps on how to change my mask safely. It was very consistent.
"There was a bit of a walk to the next check point but there were staff members along the way to guide you in the right direction.
"Next, I did my consent form in a separate area and once finished, a staff member showed me to the next check point, which was the check-in desk. There were lots of staff there so there were no queues and it was really quick. I told them my details, they looked me up in the system, and they gave me a coloured sticker so staff could see I was getting the AstraZeneca vaccine.
"I then waiting outside my vaccination booth. That was fine as it wasn't very busy. There was a steady flow so people weren't standing around for ages, which was nice.
"When it came to my actual appointment, the nurse was very quick, efficient and clear – I could tell she had a lot of training and practice with asking questions and completing the whole process. I felt very comfortable and confident because she seemed so experienced.
"When it was time for the vaccination, I informed the nurse that I was a bit scared of needles, and she said that was okay. I said I just needed to close my eyes and I would be okay. She didn't make a big fuss out of it, and during the actual vaccination she asked me a question to distract me, which was nice. It was good because the process was so fast, I didn't have time to panic or freak out. It wasn't a drawn-out process, there wasn't lots of anticipation, it was fast and efficient, which helped me not feel as stressed.
"Once the vaccination was over, the nurse gave me a pamphlet with information about what to expect after your second vaccination, which gave me something to read during the waiting period afterwards.
"Waiting afterwards was fine because there were lots of staff there, which helped me feel looked after, but they weren't constantly in my face.
"Because it was a Saturday, people were doing hot laps on the racecourse. The waiting room was actually the VIP box so I could watch the cars coming down the straight and see the whole track. It was a nice distraction because I really like cars.
"Once my waiting time was up, I followed the signs and the staff also pointed me in the right direction to the check-out desk. They did a bit of admin, double checking details, addressing me by name, which made me feel nice. I followed the signs all the way back outside. It was very clearly marked, and easy.
"I felt brave after my vaccination. I was proud of myself for doing it by myself, and it was all shockingly easy. I felt happy because I was now part of the team that was helping life get back to normal and keep everyone safe.
"It was good knowing that all the other people going through the centre would also be treated just as well as me. I felt confident that if someone else went through and was struggling or having a bad time that the staff would look after them and attend to their needs."
*Social scripts are story-based strategies using images and descriptions to explain new experiences and social environments to autistic people.