Amaze has forged a fantastic relationship with Parks Victoria to increase the accessibility of its parks for autistic people.
The social script resources for autistic people and families have photographs and simple text to show people what they may see and experience during a visit to a park.

Jells Park is the 5th park to be added to the Autism Friendly Parks Program.
You can download the social scripts from the Parks Victoria 
It is nestled in the Dandenong Creek Valley, Wheelers Hill, away from the hustle and bustle of urban life.
The park has more than 9 kilometres of paths and trails, 127 hectares of wide open spaces and plenty of picnic areas.
Trails and paths
The main Dandenong Creek Trail runs north-south through Jells Park, linking the Eastlink Track, Scotchmans Creek pathway and the Knox bike track (near Nortons Park). All paths are multi-use so you can take your choice of cycling, jogging, or simply strolling.
The conservation trail meanders around the eastern side of Jells Lake. As you pass through the wetlands and billabongs on this trail, take a look at the variety of native bird life such as the purple swamphen, the white-faced heron and everyone's favourite, the pelican.
BBQs, picnics and playgrounds
Jells Park has many barbecue and picnic areas. Relax under the shade of the pines, enjoy the lake views at the Elms, or watch the children enjoying the playground at Stringybark or Yabbie Hill. Please remember to take home all your rubbish for sorting and recycling.
Jells Lake
Jells Lake is a beautiful man-made feature with a variable water level that flows from the Dandenong Creek. No boating or canoeing is allowed. Fishing in Jells Lake is permitted only from the two larger jetties. A valid Recreational Fishing Licence is required. No fishing is allowed within the conservation area.
How to get there
Vehicle access is from Ferntree Gully Road (Melway 72 A10) or Waverley Road (Melway 71 K6). Enter by foot along the Dandenong Creek Trail or Scotchmans Creek Trail.
Jells Park is open all year with 24 hour pedestrian access. Hours of entry for vehicles vary between gates and times of year. From Waverley Road gates open at 8am.
The following story, first published in the Geelong Advertiser, tells how Amaze worked with Parks Victoria to run a special edition of their popular Junior Ranger program.
About 15 children of all abilities took part in the inclusive program at Lara's Serendip Sanctuary.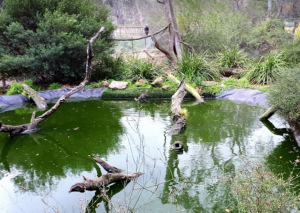 Support organisation Amaze — working in conjunction with Parks Victoria — developed "social scripts" to assist the children become more comfortable and enjoy their experience at the park.
Find the Serendip Sanctuary social script here
A social script is a resource for children on the spectrum that uses photographs and simple text to show them what they might see and experience during a visit to a park.
Parks Victoria education officer Vanessa Wiggenraad said it was important to teach children the importance of looking after the environment.
"We're committed to making our parks and reserves accessible to people of all ages and abilities — which we did today, with help from Amaze, the peak body for people on the autism spectrum and their supporters," she said.
"You're never too young to appreciate the environment, to learn about our special plants and animals and why it's so important that they're protected."
Parks Victoria's Junior Ranger program allows children of the local community the chance to explore the state's diverse parks with a real park ranger to educate them about the local environment.